Conveying ideas to students and motivating them through videos allows you to simplify concepts and enhances learning. Draw special attention to key pieces of information with captions and selections. Educators can record lessons, lectures, and presentations, expanding beyond the limits of the classroom walls, and making distance education a breeze.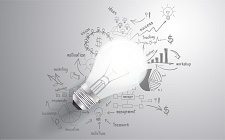 Connect with your target market through video pitches, trailers, commercials, sneak peeks, featurettes, and B2B presentations. Communicate your products and ideas with compact, potent, yet compelling videos designed to show your customers the highlights you want them to see. Defend your brand against copy cats with the watermark function, and subtitle for the hearing-impaired.
Instructing employees or users can be a daunting task. Sometimes the number of words required to explain a concept can cloud the point. However, with ACDSee Video Studio you can create concise videos that show the viewer exactly what you mean, rather than telling them. By constructing captioned examples and customized tutorials, honing sharpened users and seasoned employees is not only attainable, but quick and simple!