Share
With ACDSee there are so many ways to share your memories. Whether you prefer to print, burn, upload or e-mail, ACDSee 15 makes it easy to inspire friends, family and the world.
---
Share socially
E-mail photos, post to Facebook, and share a link to your albums on Twitter, without leaving ACDSee.
Send to the cloud
Simply drop files directly from ACDSee 15 to your free account on the ACDSee Online cloud. Use it to store and backup your photos, or create albums to share with friends and family, or the world. Your contacts can even download your images at full size. Plus easily share photos via Facebook and Twitter. All your ACDSee Online photos are protected by Amazon Web Services™, which also backs up Amazon.com and Amazon's sites around the world.
Your ad-free ACDSee Online account includes 10 GB of storage space* for free. Need more space? No problem. You can upgrade to 40 GB of annual storage space anytime.
*Terms and conditions apply.
---
Store and share on the go
Use ACDSee Online's free iPhone & iPad app to automatically send your photos to your ACDSee Online cloud space. Access and browse your entire ACDSee Online library on your iPad and iPhone. Never be caught without a picture of your family and friends, your pet or your amazing vacation again.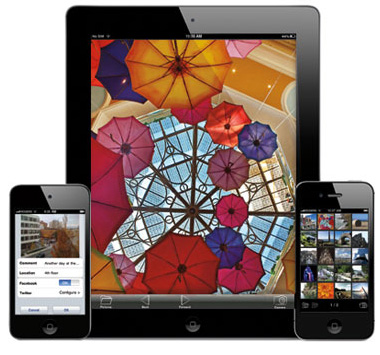 ---
E-mail with ease
E-mail photos without leaving ACDSee, with automatic resizing and convenient file conversion. Send your shots via Gmail™, Yahoo! or your desktop e-mail program.
Print smart
Take the guesswork out of home or office photo printing. ACDSee works within your print margins and helps you print multiple photos on a single page, fill an entire page, and create contact sheets. Add captions, and file properties, database information, and metadata to your page headers and footers.
Optimize for FTP
Conveniently optimize and upload images to web spaces you manage through FTP, without ever having to leave ACDSee.
Inspire the world
Create slide shows and screensavers of your favorite photos for sharing with friends and family, or showcasing on your own website. Create PDFs, HTML albums, or combine images into a Microsoft Office PowerPoint ® presentation or PDF slide show.