Edit
Make your best look even better. Experiment with easy-to-use editing tools that deliver amazingly professional results. Your originals are always saved, so you can start over again anytime.
---
Easily brush on edits
Want to soften only a face and not the entire photo? The Edit Brush makes it super easy and fast to apply any editing effect to a specific part of your photo. Correct exposure, change the color, adjust details, or add a special effect. Choose your brush size and the amount of feathering to help you achieve exactly the look you want.
Improved noise reduction
Don't delete those grainy, high ISO photos. Save them with ACDSee's improved noise reduction controls for smoother and more natural results, while saving as much edge detail as possible.
Perfect those pixels
The enhanced Red Eye Reduction tool allows you to adjust the color and intensity for a more natural look. Plus magically erase flaws, blemishes and other unwanted objects with the Photo Repair tool's powerful Heal and Clone options.
Clarity editing tool
Add a little extra definition or add a soft, dreamy effect. The new Clarity tool targets the mid-tones of your photos, without affecting the highlights or shadow areas.
---
Achieve the best light and color
Rescue photos that are too light or too dark with the Lighting tool, powered by ACDSee's patented LCE (Lighting and Contrast Enhancement) technology. Instantly lighten shadows and reduce highlights in one click, or adjust individual sliders to fine tune every aspect. Change the tonal range, white balance, and color balance of your photos with easy-to-use adjustment tools.
Make moments magical
Choose from more than 20 special effect filters including the Collage effect to creatively display your photo in a collage of prints; Lomo effect for an edgy, retro feel; and Orton Effect to give an ethereal, pastel-like touch to your portraits and landscapes.
Blur smartly
Use the Smart Blur filter to blur areas of little or no detail while still maintaining the sharpness and important details of your photo. Try it as a creative effect or to reduce the noise in your photo for a smoother, less grainy look.

Frame your memories
Add a border, vignette or text to your favorite photos. Customize the color, texture and thickness to suit your shot. You can also blur or raise the edges, and add a drop shadow to perfectly complement the mood and atmosphere of your photo.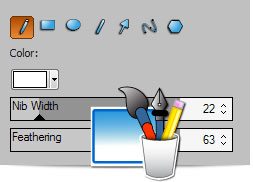 Mark it up
Grab the Pencil tool to draw freehand, or add lines, curves, shapes and drawing effects to call attention to specific parts of a photo.